Why Plantpack is the best choice?
Plantpack is a 100% natural, non-toxic desiccant. Plantpack makes sure that your product will stay mouldproof while stored or shipped, but that's not all.
non-toxic desiccant
The gasses benzene and toluene will be absorbed during transport so the chance that your container needs to be vented upon arrival in the harbour is very small.
We sell Plantpack worldwide and enjoy trust and high praise from our customers.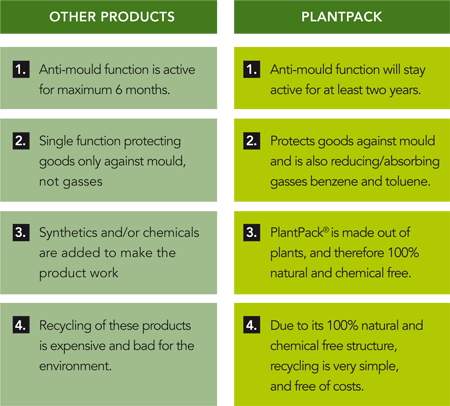 Why Plantpack is the best choice?
Currently there are a lot of products on the market that will keep your product clean from mildew. Why should you choose Plantpack?
With Plantpack you are not only using a environmental friendly and 100% natural chemical free product, but also the safest product available.
Having read these advantages, it might be hard to believe that Plantpack comes at a very competitive price. Have a look at our webshop and check out the prices yourself.
During the last five years Plantpack has been frequently tested and improved at several stages to become the quality product it is today. We are proud to present  this unique product that not only protects your goods against mildew but also absorbs gasses at the same time.
Plantpack is mainly made from the following plants:
Herba Bouttuynae
Soapberry Seed
Cunninghamia Lanceolata
Plantpack non-toxic desiccant does not contain any additives. The absorption lasts for a period of at least two years. As said, besides keeping your products mildew free Plantpack also absorbs the gasses benzene and toluene.
These gasses can come free from certain products during the period of transport.  Both benzene and toluene gasses are extremely dangerous and could do harm to persons inspecting or unloading the container. Not to mention what these gasses could do to the health of the consumers. non-toxic desiccant